The Patrons Association provides support for student scholarships as well as valuable assistance to support performances and programs that enrich the lives of all students and community members. In the past two years, the Patrons Association raised more than $40,000 towards student scholarships and recruitment.
These scholarships allowed many of our students to study aboard at our London Theatre Program. Our theatre students work with some of England's best teachers and artists as well as with faculty from the Tallahassee campus. They attend theatre every week, some attend every day, and visit other countries during their breaks. Studying theatre in London is an extraordinary experience. To learn more about our Patrons Scholars, click
HERE
.
There are several opportunities for our undergraduates and graduates to receive funding for presenting and attending industry conferences. These conferences offer our students the chance to share research and network to further their careers after Florida State.
Funding also supports programs for students of the Tallahassee Community. Every year, tickets for the Theatre for Young Audiences program are given to the Little Feet Project. This project brings around 70 local children to what might be their first ever live theatre experience. 
As a Patrons Association Member, you become part of a community of people who love the arts and want to see that love grow in our students. You receive exclusive benefits like priority ticket purchases, membership events, and behind the scenes opportunities.
The Patrons Association hopes that you decide to join us and give the gift of the arts today. For any questions, please contact the Community Engagement Office at
850-644-1377
 or
theatre-engagement@fsu.edu
, or the Fine Arts Ticket Office at
tickets@fsu.edu
.   
BENEFITS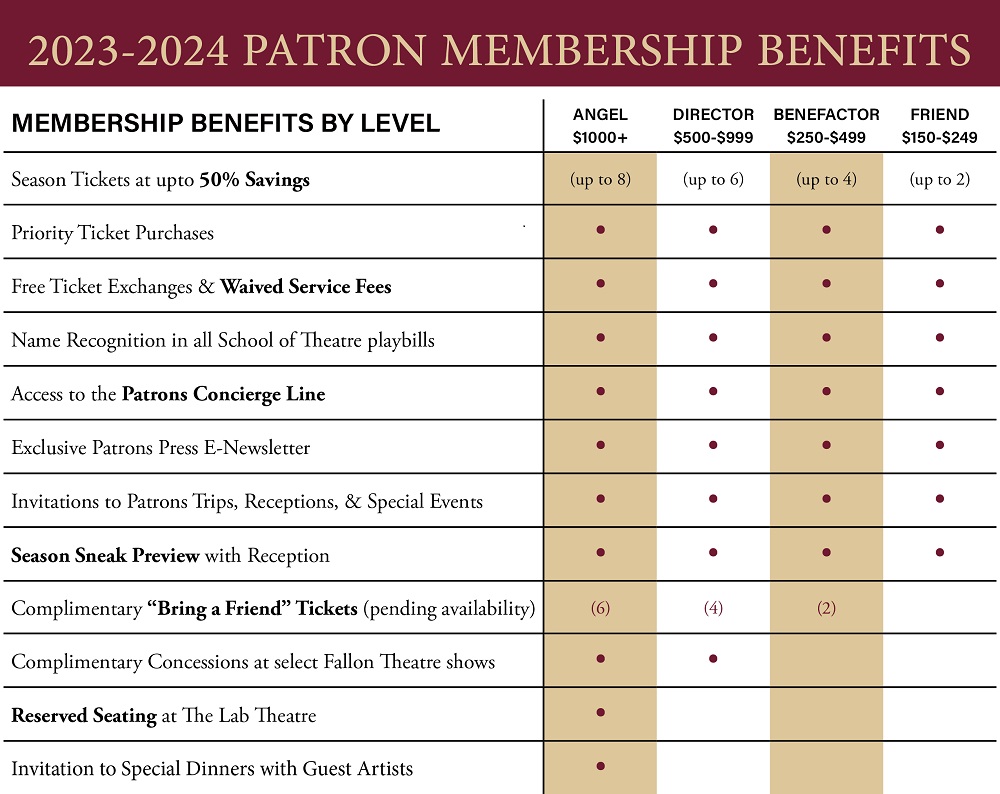 *Ticket benefits are applicable for School of Theatre productions only. Other events sold through the Fine Arts Ticket Office do not apply.

JOIN THE PATRONS ASSOCIATION TODAY!

PURCHASE A MEMBERSHIP & SUBSCRIPTION ONLINE
Click the Patrons Association Membership level below that you wish to join. 
Please note: In the Membership purchase flow you will be offered the opportunity to add on a subscription package. 

For more information on subscription packages, shows, and pricing please visit the BECOME A SUBSCRIBER

page.

PURCHASE A MEMBERSHIP & SUBSCRIPTION BY MAIL
If you would prefer to submit your Patrons Association Membership and Subscription order through the mail, download the Membership & Subscription form.  The form can be sent to the Fine Arts Ticket Office with either a credit card or check payment attached.  Check payments must be made payable to FSU Fine Arts Ticket Office.  

Fine Arts Ticket Office
540 W Call Street
P.O. Box 3061160
Tallahassee, FL 32306-1160