The Patrons Association supports the students, faculty, and staff at the School of Theatre by promoting activities that enrich the School and the cultural life of our community. Your membership in the Patrons Association supports activities that enhance the lives of all students and community members, and provides you with exclusive opportunities and benefits, including discounted subscriptions and tickets.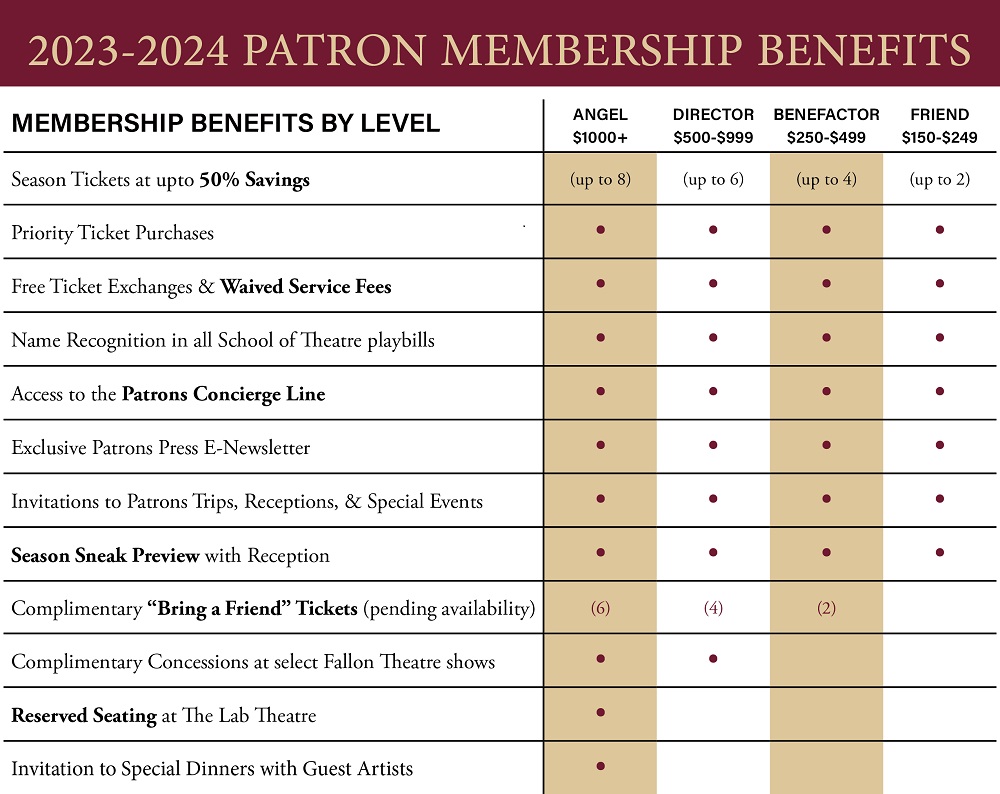 PURCHASE A PATRONS ASSOCIATION MEMBERSHIP & SUBSCRIPTION ONLINE
Click the Patrons Association Membership level below that you wish to join. 
Please note: In the Membership purchase flow you will be offered the opportunity to add on a subscription package.


PURCHASE A NON-PATRON SUBSCRIPTION ONLINE
Not interested in joining the Patrons Association, but still interested in seeing multiple shows throughout the season?  Purchase a subscription starting
April 14, 2023 at 11:00 AM!
  Subscription packages are available in Flex Packs of 3 or 4 shows, or a Full Subscription Pack of all 5 shows. Subscribers receive up to a 30% discount off of the regular ticket price, free exchanges, and advanced purchase opportunities. 

Click your desired package type below to continue with your purchase.
NOTE: Full Subscription Packages are available in Adult, Senior, Student, and Child prices. Flex Subscription Packages are available in Adult and Senior prices only.
Non-Patron subscriptions on sale April 14, 2023 at 11:00 AM
Note: If you are a Patron and want to purchase a season package you must add the above donation first. If you have already made a donation, please contact the Fine Arts Ticket Office for assistance, or mail your subscription form using the below link.
 
PURCHASE A SUBSCRIPTION BY MAIL
If you would prefer to submit your Subscription order through the mail, download the Membership & Subscription form.  The form can be sent to the Fine Arts Ticket Office with either a credit card or check payment attached.  Check payments must be made payable to FSU Fine Arts Ticket Office.
DOWNLOAD MEMBERSHIP & SUBSCRIPTION FORM
Click the link above to download the subscription form.

Fine Arts Ticket Office
540 W Call Street
P.O. Box 3061160
Tallahassee, FL 32306-1160
SUBSCRIPTION TERMS & CONDITIONS
EXCHANGES: All packages Receive FREE exchanges.

Exchanges can be made for alternate dates or seating locations of that same show, pending availability. Tickets cannot be exchanged between shows. Exchanges after a performance has passed cannot be honored.

SEATING: All subscription and seating requests are filled on a first come basis. Requests for same seats as previous subscription year are not guaranteed. The Fine Arts Ticket Office will do our best to fulfill seat requests as close to the requested seat as possible.

FEES: All fees are waived for Patrons Association Members. Handling fees apply to all phone, mail, fax and online orders. All handing fees are non-refundable. In the case of a cancellation, only the face value of the ticket will be refunded.

CHILD SUBSCRIPTIONS: A child  is considered the age of 17 or under without a student ID

STUDENT SUBSCRIPTIONS: Student is considered high school and older and must present a valid student ID at the event/door when the ticket is scanned. If a valid student ID is not presented the guest will be required to pay the difference in ticket price to change the ticket to an adult priced ticket. One (1) valid student ID is required per student subscription/ticket.

SHARED ACCOUNTS: If you are sharing your subscription with another guest and would like for them to be able to make exchanges, please provide their full name to be added to your account as an approved user. It is the policy of the Fine Arts Ticket Office that only the account holder and associated names on the account have permission to make any ticket exchanges or adjustments.

PROGRAMMING: All programs, artists, ticket prices, dates and times are subject to change without notice.

ALL SALES ARE FINAL. There are no refunds unless an event is cancelled and not rescheduled. Booking Protect refund protection is offered on all sales. For more information on Booking Protection please visit https://tickets.fsu.edu/online/article/bookingprotect
QUESTIONS?  CONTACT US:
Please allow us to assist you with your order if you have any questions. The best way to reach us is to email tickets@fsu.edu . You may also call us at (850) 644-6500 . Our regular business hours are Monday through Thursday 11:00am to 4:00pm and Friday 11:00am to 3:00pm.